Drop off and pick-up assignment materials on Wednesdays from 7:30 until 4:00.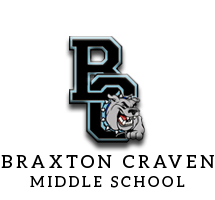 Mission
The mission of the Randolph County School System is to maximize educational opportunities for every student by focusing on continuous improvement and having high expectations for students and staff, while preparing students for multiple options to be competitive in a diverse 21st Century global society.
Braxton Craven staff believe that every student can succeed if we work together with students and their families. Our motto is "Be More Dog." At BCS we work hard, play hard, and take care of each other.
Our 2020-2021 group of students were unable to tour the school this Spring, so we made a virtual tour video to help students and parents get familiar with our school. Watch it here.

Please remember to have your student to check in to ClassLink by 8 am each morning to make sure we get attendance correct.
BCS Yearbook Time!
This year we will have a soft cover with a reduced price. To order yours, click here.